Home

/

AZ250
Nano Machining Center
Product Introduction
Main Features
Overhang-Free Box Construction
A box construction with no overhang and low center of gravity is adopted to provide a high rigidity structure able to withstand high speed and high acceleration operation.
3 nm Minimum Control Unit
The adoption of linear scales with 3 nm minimum resolution and coreless AC linear motors achieves high accuracy and highly responsive drive.
Energy-Offset Twin Linear Motor Drive
The countershaft is installed in the X and Y-axes. The countershafts are driven by the reverse phases to the X and Y axes and the countershafts suppress changes in the center of gravity position. More accurate and efficient machining is then achieved by vibrations during high acceleration operation.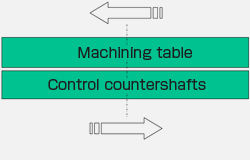 Driving the countershaft by the reverse phase to the machining table reduces the fluctuations in the center of gravity position and vibrations during high acceleration operation and suppresses any drop off in machining accuracy and machined surface accuracy.
120,000 min-1 High Speed Main Spindle
The 120,000 min-1 air-turbine spindle features aerostatic bearings which generates no heat and offering superb rotational accuracy.
Automatic Shrink Fitting
The tools are directly shrink-fit in the main spindle. The shrink-fit system offers the excellent features of (1) large grip area on the tool shaft that ensures no drop-off in tool gripping force (no loosening) during high spindle rotations and (2) superb tool-replacement accuracy. Up to 30 tools can be replaced automatically.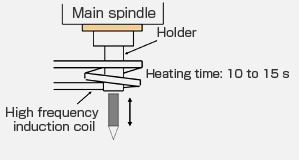 Workpiece and Tool Measurement Functions
The workpiece position is measured by contact sensing with a spherical probe (electrical contact sensing) and the tool diameter and length are measured by laser. Combination with automatic tool replacement offers highly accurate automatic machining.
Direct Motion (Special Accessory)
The AZ250 incorporates the Direct Motion (special accessory) that loads 3D models, offers easy setup of the machining conditions using the internal machining condition database, easily creates error-free tool paths, provides optimal motion analysis for the machine, and creates a system that generates direct motor drive commands and performs machining.
Direct Motion offers powerful machining simulation functions, including motion analysis, and can acquire accurate machining times and ensure accuracy in advance. It permits the efficient machining of ultra-precise 3D shapes.
Product Specifications
AZ250
Mechanical parts
Travel

X/Y/Z

250×150×100mm
Drive system

X/Y/Z

Coreless AC linear motor
Linear scale
3 nm minimum resolution
Minimum input unit
0.00001mm
Cutting/positioning rate
5,000mm/min
Acceleration

X/Y/Z

2/1.5/2 G, 0.5 G during machining
Max. workpiece weight
5kg
Main spindle
Max. rotational speed
120,000min

-1

Bearings & drive
Aerostatic bearings/air-turbine type
Tooling
Holder type
Main spindle shrink fit
Shank diameter/length
Φ4/20mm
Heating method
High frequency induction shrink fitting, 2 MHz, 1 kW, 10 to 15 s heating time.
Replacement accuracy
2 µm max., standard tool tip
Number of tools in ATC
30 tools (15×2 pallets)
Measurements
Tool length & diameter measurements
Laser (0.05 minimum diameter)
Workpiece measurements
Contact sensing (equivalent to die-sinking electrical discharge machine)
Other specifications
See the catalog (pdf).